Texoma Gives is TOMORROW. Are You Ready?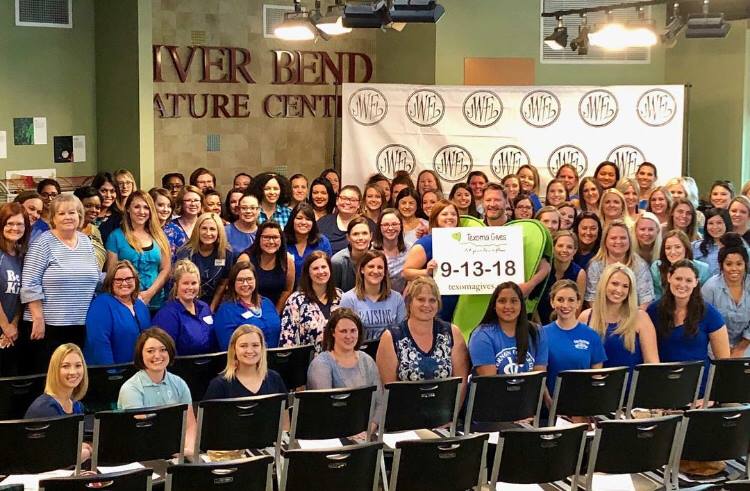 Thursday, September 13 is a day of giving across Wichita Falls and the Texoma area. For those of you unfamiliar with the program, participating nonprofits (that's us!!) will be encouraging you to make online donations on that special day at TexomaGives.org in order to win additional donation dollars for their cause.
This year, we chose something very close to our hearts – kids in need, at the schools with the most kids in need. You may have noticed many of our League members wearing the same clothes for several days at a time over the last couple of weeks. We've dubbed it the "Uniform Challenge."
Why?
This whole project came about because of our League's PIE partnerships with Zundy and Burgess Elementary. For years, the schools have been giving us wish lists and we've been hosting "impact drives" within the League membership. And the wish list items break your heart a little – deodorant. New underwear. Febreeze fabric freshener. Toothbrushes and toothpaste. Lice shampoo. Shoes.
These are the things kids in our community desperately need. Yes, crayons and school supplies are a part of the puzzle. But when you can't get your basic needs met, it's really hard to focus on things like coloring with crayons, and just plain learning.
So tomorrow, we are ready to hit the ground running to raise the most possible for these awesome kids.
Contests will go on throughout the day. This year, we are aiming for prizes below, so if you are planning to donate, please aim for these two timeframes:


So what should you do?
If you're a League member, help us spread the word on what we're doing.
There really is strength in numbers, and so many of you have been wearing your uniform to bring awareness to our cause, it's truly inspiring. Continue to post online even after you complete your challenge, and talk to your friends one-on-one about donating to our efforts. A personal ask makes a BIG difference.
If you're a Sustainer, help support YOUR League by making the most of your donation dollars.
Our League is not just 100 active members strong, but over 350 member strong. Let's pool our strength to make a difference! Your donation could be doubled or more if we win the incentive prizes! In particular, if you make a large donation annually, or would LIKE to make a large donation, please contact our President Crystal Short, so we can strategize with you on the best time to donate.
If you're a member of the community, please donate!
Absolutely everything we earn on September 13 will be pumped into our COMMUNITY PLAN and given back to the Texoma community, with a focus on our mission of helping at-risk youth. That means school uniforms, shoes, personal hygiene products for kids who need them. That means mentorship programs for teen girls.
Last year we raised $1,700 and received another $1,000 in prize money. That $2,700 was used to purchase 55 pairs of jeans, 10 hoodies, 36 pairs of shoes and 107 polo shirts for kids in need at Burgess and Zundy Elementaries. Imagine what we could do with more!