Commitment to Diversity & Inclusion
The Junior League of Wichita Falls welcomes all women who value our Mission.  We are committed to inclusive environments of individuals, organizations and communities.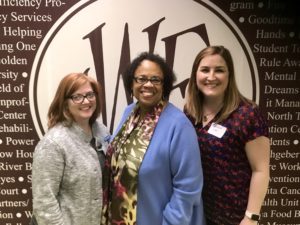 We have recently adopted the above commitment statement and have completed the Diversity & Inclusion assessment for our Board of Directors.  As part of our celebrating our 60th year, we were honored to host a luncheon workshop on February 27, 2018 with Vicki Clark and invite the community to come and learn about Diversity & Inclusion from such a wonderful speaker.  Many of you have asked about using her presentation for your own organization's trainings, so please click here to download a pdf version of it.
We also were excited to have her speak to our Membership at our evening General Meeting on the same day.  Vicki walked through the Diversity & Inclusion Assessment with our Membership and talked about our next steps in this journey.  We are so excited about what the future holds for our League as we continue to be committed to Diversity & Inclusion not only in our League and its events, but also in our community.