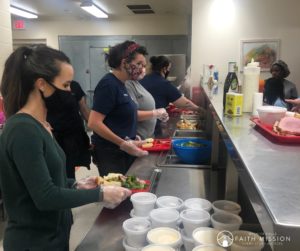 The Junior League of Wichita Falls is committed to promoting volunteerism and to directing our resources to effect positive change in the community. We currently have a program called Opportunity Knocks established to assist non-profit agencies.
In the past, this program has assisted many community agencies, such as Adopt-A-Box, Big Brothers/Big Sisters, Helping Hands & Hearts, Children's Miracle Network, Patsy's House, Teens Make A Difference Day, Christian Women's Job Corps, and Rainbow House.  Opportunity Knocks is designed to respond to the immediate, short-term needs of community agencies that are not currently sponsored by the Junior League of Wichita Falls. When a project is selected, our Opportunity Knocks program provides BOTH of the following:
Financial assistance up to $2500
League volunteers to work with the organization for a short term to be agreed upon by the Junior League and the organization
Requests are not considered for the following:
Fundraising activities
Travel or per Diem expenses
Salaries
Agencies receiving assistance from the Junior League of Wichita Falls during the current fiscal year
Requests in excess of $2500
If financial assistance is the only need, the Junior League also makes available the Community Assistance Fund (CAF). An organization may apply for both of these funding sources during our fiscal year from May to May but will be awarded no more than one.
If an agency wishes to request assistance from the Opportunity Knocks program, they should complete and submit an application to the Opportunity Knocks committee in care of the Junior League of Wichita Falls, 2302 Midwestern Parkway, Wichita Falls, TX 76308. Each request will be evaluated on an individual basis according to the date and nature of the request.
Applications are sent out each year. To receive an application, an agency representative can contact the Junior League office or can download an application below!  The deadline to submit is November 6, 2021.