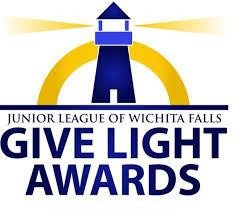 April 27, 2017 
Farmers Market in Wichita Falls.
Congrats to our 2017 Winners and Nominees!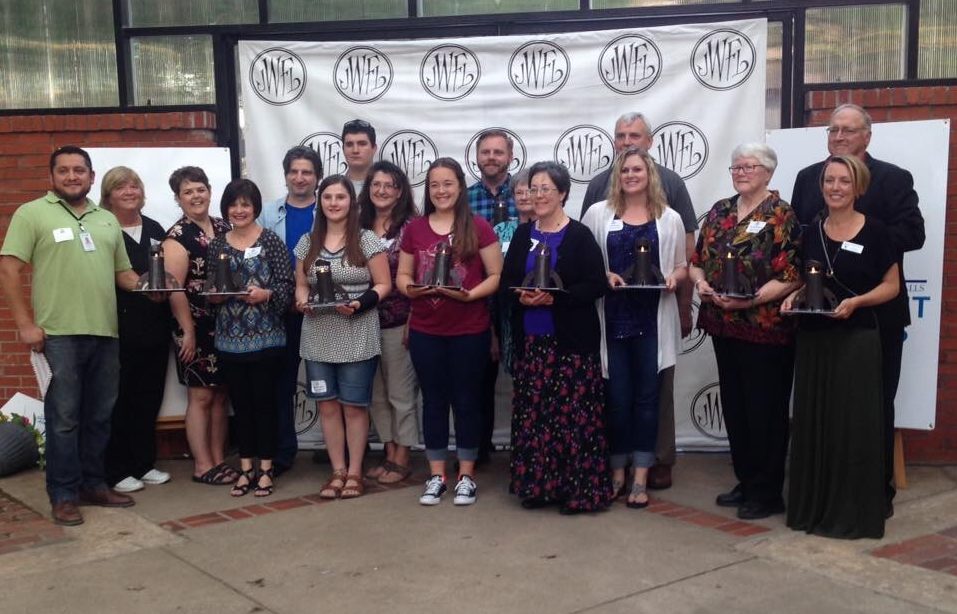 Over the span of five decades, The Junior League has embraced the value of voluntarism in the Wichita Falls community.  Long-term promotion of the Youth Volunteer Awards was broadened in the early 90s to include acknowledgement of worthy adults and nonprofit organizations.  Since then several partnerships have existed among for-profit and nonprofit entities under a few namesakes – Lighting the Way Awards, Jefferson Awards, and Give Light Awards.
In Spring of 2017, the Junior League of Wichita Falls decided to build on its rich history of community volunteer recognition with a new format.  This approach continues to publicly recognize and applaud ordinary people reaching beyond themselves to touch the lives of those in need.  Yet noticeable changes were made as the Junior League reorganized to promote voluntarism in a larger scope by:
-Develop a larger and more diverse network of community partners who value voluntarism and the acknowledgement and appreciation thereof;
-Increase recognition opportunities through expansion of award categories (including a for-profit category) and almost tripling monetary award amounts (to be designated to a charitable organization by the winner);
-Create a premiere, community-wide event where residents come to celebrate the people who make Wichita Falls great; and 
-Help nonprofit organizations recruit and engage volunteers for future endeavors. 
2017 Award Categories
LIFETIME ACHIEVEMENT – 2017 Winner is Felicia Douglas!
Underwritten by the Junior League of Wichita Falls, Inc.
This award is to celebrate an individual who has an established history of distinguished service that is the result of a 20 (or more) year commitment and selfless dedication to volunteerism in our community. Leadership contributions are indicative of, but not limited to, the sharing of expertise, skill sets and knowledge, mentoring others to build individual and organizational capacities, financial contributions to accompany gifts of time, and simply raising the bar of volunteer engagement.  This role model easily depicts how one person can make a substantial, long-term impact for sustained change.
LEGACY BUILDER – 2017 Winner is Gerald Hohfeld!
Underwritten by First Bank
This award celebrates an individual who embodies the true spirit of volunteerism; commitment, selflessness, generosity and care through unparalleled action.  Their dedication to serving the nonprofit sector, bringing innovative ideas forward and to fruition, and exuding passion for their championed cause(s) helps to build a stronger community by ensuring the needs of others are met in unique, inclusive, and transformational ways.
SPIRIT OF COLLABORATION – 2017 Winner is Healthline & Interfaith Outreach Services!
Underwritten by Trinity Hughes Construction
This award is to celebrate strategic partners who work together towards a shared interest.  This cooperative nature is found amongst organizations that maximize resources (people, finances and services) to accomplish a goal that measurable improves the quality of our community. The outcome, whether an event, project, or specific service, could not be achieved in isolation or would be done on a much smaller scale without collaboration.  Evidence must outline how each entity specifically contributed to the success of the identified endeavor.  Strategic partnerships may be among civic, community service and faith-based groups, for-profit businesses or a combination of groups.
EXCELLENCE IN CORPORATE ENGAGEMENT – 2017 Winner is United Supermarkets!
Underwritten by The Santellana Family
This award is to celebrate a for-profit corporation or business that not only provides sponsorship of one (or more) nonprofit organizations and their respective initiatives, but also encourages employee volunteer participation.  This may encompass ongoing volunteer support, providing paid time off for employees to give back or matching employee contributions to nonprofits. Overall, there is a general workplace commitment to making our community a better place.
KEY CONTRIBUTOR – 2017 Winner is Wichita Adult Literacy Council!
Underwritten by The Junior League of Wichita Falls
This award celebrates a local nonprofit organization whose community support services are rendered by effectively trained and mobilized volunteers who share a distinct role within the organization.  Programs and services rely on a strong volunteer base that produces mission-driven results and measurable community impact. Includes civic, community service and faith-based groups.
DREAM WORK TEAM WORK – 2017 Winner is The Salvi Family!
Underwritten by Union Square Credit Union
This award celebrates a family who is a living example of active volunteer engagement.  Parents instill the expectation of service, help their children get involved and act as role models through their own community commitments.  While each family member may choose to volunteer for their preferred cause or project, increased consideration will be given to a family where all members dedicate efforts to the same project or cause.  This award may also feature multi-generational families whose volunteer traditions are celebrated, passed down and continued today.
EMERGING LEADER – 2017 Winner is Shena Barrett!
Underwritten by Endless Services
This award celebrates an individual who, within the last year, has kindled a love for nonprofit work and has demonstrated a steadfast dedication to volunteerism in our community.  Even though current experience may be brief, this individual shows significant promise consistent with being a catalyst for positive change.
TRAILBLAZER – 2017 Winner is Nicholas Schreiber!
Underwritten by the WFACF – Teresa and Terry Caves Donor Advised Fund
This award celebrates a nonprofit Board Member exudes inspirational board leadership to fulfill the mission of their respective organization.  This individual leads with intent to facilitate needed change, drive strategic direction and spearhead major funding initiatives to progress the organization and advance the public good.  Effective use of authority allows mobilization of all stakeholders from staff, board, organization and community to unite for maximum impact.
YOUNG GUN – 2017 Winner is Kaydon Jones!
Underwritten by Sharp Iron Group
This award celebrates a youth member of our community. Servant leadership may be embodied at any stage in life, but under the age of 18 years is impressive and noteworthy.  This student demonstrates the ability to see beyond him/herself to identify a need and react to facilitate meaningful change in our community.  This individual is a peer leader within a neighborhood, school or organization and exhibits a high degree of integrity and personal conduct.  Overall, this individual is an exceptional volunteer whose service sets a positive example for all ages.