Food Fight is a one-day event where the Junior League of Wichita Falls, along with the other Junior Leagues from across Texas and Oklahoma, compete to see who can raise the most food for their respective food bank through a Food Bank Challenge.
In 2017, the Junior League of Wichita Falls gathered over 14,000 pounds of food for the Wichita Falls Area Food Bank!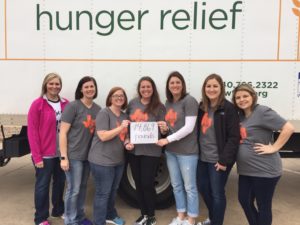 Our goal this year is to top 15,000 pounds. This year's event is March 3, 2018 at United on Jacksboro Hwy.
Click

here

for more information on our Facebook event page.
We'll be collecting donations from Feb. 26 – March 3.  Click here

 

for donation locations!