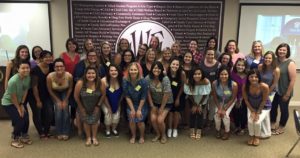 The Junior League of Wichita Falls begins a new member or "Provisional" class twice a year, once in August and once in January.  You can download the 2017-2018 New Member Application here.  JL New Member Application 17-18
You can either drop by or mail the completed form to our offices at 2302 Midwestern Parkway, Wichita Falls TX 76308.
Orientations will be offered in July & December.  Each new member is required to attend one session so that information can be disseminated and questions can be answered.  At the orientation, you'll have a chance to learn about our Provisional program and key dates for the upcoming year.
If you have any questions about the application or our Provisional class requirements, please contact our 2017-2018 Provisional Chairs:
Kim Childs kim.childs@rocketmail.com (940) 636-3030
Jaclyn Johnson johnsonjaclyn7@gmail.com (940) 867-3102