Oh What Fun It Is…. To Give Back by Attending Christmas Magic!!
Christmas Magic is an event I've been involved in as a member of the Junior League for the past five years. There are so many fun things that happen BESIDES the main Market/shopping area, and I think a lot of people don't realize that every ticket sale for every event throughout Christmas Magic goes BACK into the community through the League's community projects the rest of the year. It's our biggest fundraiser and that's why it's SO important for the community to come out, have fun, and support this event!
Even though I'm not on the committee this year, I thought I'd take a moment to share my five years experience volunteering (and two years on the committee), and give you the complete Insider Guide to all of the festivities:
Thursday, November 1: VIP Preview Party (6 – 9 pm)
Your paid ticket includes: First Look Shopping, Hors d'oeuvres and Specialty Drink & Raffle Ticket for Door Prizes throughout the night. Plus, first 200 shoppers through the door get a "Oh What Fun" swag bag.
I love this event because you get to see everything before anyone else, and most of the vendors offer special discounts that night. Plus, you get to eat and sip while you shop! Not bad for $25 advance purchase, $30 at the door.
Only caveat? You definitely have to find a babysitter, because they have a no stroller policy for this event, to help cut down on traffic in the aisles. But what better excuse do you need for a girl's night?
More Info: Tickets and Facebook Event
Friday, November 2 –  Sunday, November 4: Market Shopping (all day)
Friday, Nov. 2          9:00 am – 7:00 pm
Saturday, Nov. 3       9:00 am – 7:00 pm
Sunday, Nov. 4          Noon – 5:00 pm
Tickets are $6 purchased in advance, $7 if purchased at market door.  Shop over 100 merchants from across the United States. Great way to kick off the Holiday Season! Even though your $7 ticket goes to charity, it's still worth paying admission just to see all the decorations! I think we decorated something like 30 Christmas trees for the MPEC last year? It's quite a sight to see. Plus there are musical and dance performances going on throughout the Market each day from various schools and local groups. AND there is always a really fantastic Santa and photographer, which produced these priceless gems of my son his first year: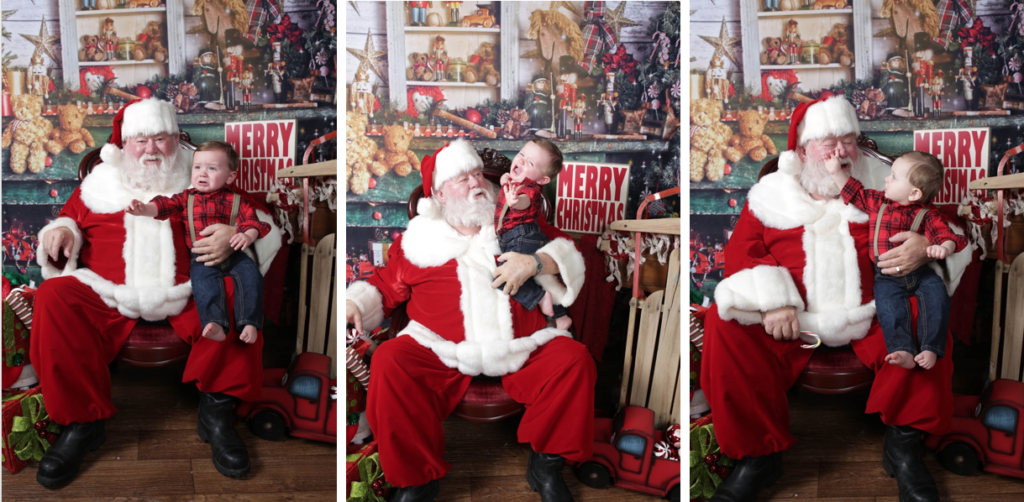 ALSO: INSIDER TIP: All the decorations on display are FOR SALE and super reasonably priced. This year's theme is "Oh What Fun" and is so bright and colorful and full of crafts and homemade decor, so I'm super pumped to pick up some extra decorations!
SECOND INSIDER TIP: For the 12 days leading up to Christmas Magic, we give away TWO FREE TICKETS on our Facebook page each day. So go there now to try and scoop some up!!
Where To Buy Tickets: Online, or in person at the Junior League center (2302 Midwestern Pkwy), and United Market Street.
Saturday, November 3: Pancakes & PJs with Santa (10 – 11 am)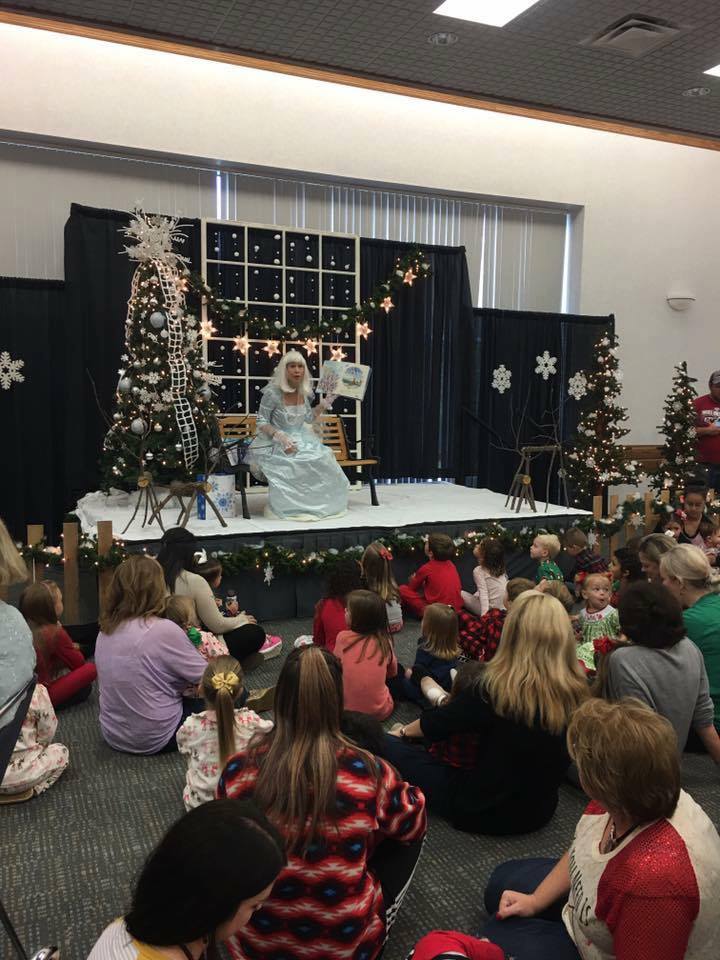 I have to admit, I haven't been to this yet because my son hasn't been old enough, but it looks like a blast! Wear your pjs and enjoy a story (pictured on the right), craft, pancakes and a special visit from Santa. Tickets are $20 per child. (One adult admitted with each paid child – also includes admission to Market). If you want to bring another adult like a spouse or grandparent, all they have to do is purchase a $7 Market ticket (not another $20 event ticket).
INSIDER TIP: This is a GREAT opportunity to snap a couple of photos of your child with Santa on your phone, if you don't want to go for the professional photos.
More Info: Tickets and Facebook Event
Saturday, November 10: Christmas Magic Auction Gala (6 – 11 pm)
THIS is your excuse to get dressed to the nines, bring the hubby or a group of girl friends, and get in the holiday spirit! The night kicks off with a complimentary Cocktail Hour, and features a silent and live auction, dinner, Casino Games and entertainment by NO LIMITS. It's all set at The Warehouse and every year the committee outdoes themselves decorating for the occasion.
INSIDER TIP: This is the perfect opportunity to coerce your husband into taking couple photos of the two of you all dressed up with pretty decorations in the background. Because if yours is like mine, getting him to take an acceptable Christmas card photo is like forcing him into an un-sedated root canal. So yeah, two birds, one stone.
Tickets are $75 per person. To purchase a table or request seating arrangements, please email jlwftickets@gmail.com. See Facebook event for more details.