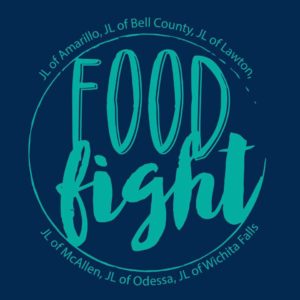 Competition is healthy, but in our Food Fight EVERYONE wins! And to be honest that's how we want it… a friendly battle against hunger!! On March 3rd, the Junior League of Wichita Falls is participating in a Food Fight that spans Texas and crosses state lines. Six Junior Leagues will be competing for bragging rights!
We will be collecting food for the Wichita Falls Area Food Bank at the United on Jacksboro Highway this Saturday March 3rd from 9am-2:00pm!
Last year we collected over 14,000 pounds of food. This year we hope to top that!!!!
Make sure you check out Maggie Lengsfield on the That City Show promoting the FOOD FIGHT!!
If you can't make it Saturday, please drop off canned goods at one of the many drop off locations around Wichita Falls!!!
Spread the word, use your Social Influence… invite your friends via Facebook, Instagram and Twitter. Use this event as an opportunity to teach your children about helping others. Show them how good it can feel to give!