Welcome to the New League Connection!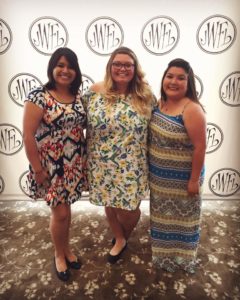 Hello, everyone! Welcome to the new League Connection blog. I am excited to share the first post of the year for the Junior League of Wichita Falls! We hope that this format is more accessible and shareable to all, will allow for more timely updates, and save a few trees by being ALL DIGITAL now.
My name is Sierra Trenhaile and I am a first year active member of our League. I am thrilled to be the editor of this blog for the 2017-2018 League year! Just to put a face on the blog… I'm the lady in the center of the picture! Blogging is a new adventure for me… so hopefully I get the hang of it soon!
To share a little bit about myself: I enjoy hanging out with my family and friends and I adore my dog, Peyton. I love to read and always have at least one book in my purse. I am a Midwestern State University graduate and I am incredibly blessed to get to work for them as an Admissions Counselor everyday. I know that I am very new to Junior League but I am really enjoying it so far, and look forward to sharing the amazing things we do with a fresh perspective. I hope that being involved with this blog and its development this year will allow me to see all the work that Junior League members do across the League, and share that with our community.